The Fresh-Water Fishes of the Islands of Trinidad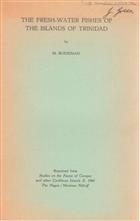 Description:
Reprinted from Studies on the Fauna of Curaçao and other Caribbean Islands X (48): 73-153.
Condition
Orig. wrappers, partly browned, wear and ink title to spine, owner's name to front wrapper.
Other titles from the collection : Prof Jim Green
You may also like...