The Genera of the African Lycaenidae (Lepidoptera: Rhopalocera)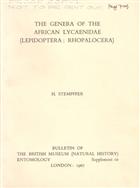 Description:
Bull. Br. Mus. Nat. Hist. (Ent.) Supp. 10
Condition
Proof copy with frontis in b/w. From the library of T.G. Howarth, with his bookplate to endpaper.
Other titles from the series : Bulletin of The Natural History Museum: Entomology
You may also like...