The Life of the Fly with which are interspersed Chapters of Autobiography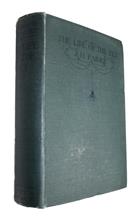 Description:
The present volume contains all the essays on Flies, or Diptera, from Souvenirs Entomologiques. Jean-Henri Fabre (1823-1915) was a French naturalist, entomologist, and author. He is best known for his observations of living insects and is considered by many to be the father of modern entomology. His Souvenirs Entomologiques is a series of texts on insects and arachnids, which first began publication in 1879. Fabre sent a copy of his first volume to Charles Darwin, who called Fabre 'an inimitable observer'.
Condition
8vo, orig. cloth, lightly rubbed/worn, slight bump to one corner, minor spotting to fore edge. Vg. Provenance: Book-plate of Sir George Alexander Touche [formerly Touch] (1861-1935), accountant and politician, founder of an accountancy practice, George A. Touch & Co. (now Deloitte and Touche), in London in 1899.
You may also like...