The Little Owl: Conservation, Ecology and Behaviour of Athene noctua Conservation, Ecology and Behavior of Athene noctua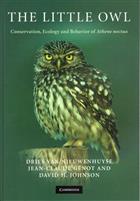 Description:
The Little Owl is one of the best models for biological and conservation research. This book covers ecology, genetics and subspecies.
Condition
As new.
Other titles from the collection : Prof Jim Green
You may also like...