The Plankton of the Illinois River 1894-1899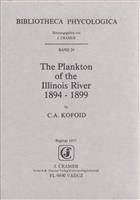 Description:
Bibliotheca Phycologica 29. Reprinted from Bulletin of the Illinois State Laboratory of Natural History, Vol. VI + VIII, first published 1903-1908.
Condition
Vg. From the library of Prof. J. Green (1928-2016) with his name to endpaper.
Other titles from the series : Bibliotheca Phycologica
Other titles from the collection : Prof Jim Green
You may also like...