The Principal Larrea Bees of the Southwestern United States (Hymenoptera: Apoidea)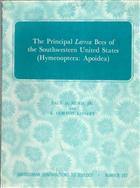 Description:
Smithsonian Contributions of Zoology no. 193.
Condition
Wrappers. From the library of hymenopterist Chris O'Toole with his highlighting and annotation. Vg.
Other titles from the series : Smithsonian Contributions to Zoology
Other titles from the collection : Library of Chris O'Toole
You may also like...