The Staphylinidae (rove beetles) of Britain and Ireland. Parts 7 & 8: Oxyporinae, Steninae, Euaesthetinae, Pseudopsinae, Paederinae, Staphylininae (Handbooks for the Identification of British Insects 12/7)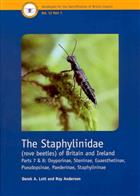 Description:
Illustrated identification keys to genera and species, with species accounts: key characters, habitat, distribution and biology
Condition
Vg.
Other titles from the series : Handbooks for Identification of British Insects
You may also like...