The Structure and Reproduction of the Algae. Vol. 1+2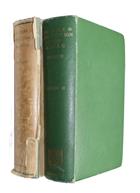 Description:
Vol. 1, 1948 reprint; vol. 2, 1945. Vol. 1 Introduction, Chlorophyceae, Xanthophyceae, Chrysophyceae, Bacillariophyceae, Cryptophyceae, Dinophyceae, Chloromonadineae, Euglenineae, colourless Flagellata. Vol. 2- Foreword, Phaeophyceae, Rhodophyceae, Myxophyceae.
Condition
Orig. cloth, some wear to extremities. Vol 1 with worn/ torn d/w. From the library of Michael Proctor (1929-2017), plant ecologist and author of the Collins New Naturalist volumes on Pollination and Vegetation of Britain & Ireland, with his signature to endpapers.
You may also like...