Through Jubaland to the Lorian Swamp: An Adventurous Journey of Exploration and Sport in the Unknown African Forests & Deserts of Jubaland to the Unexplored Lorian Swamp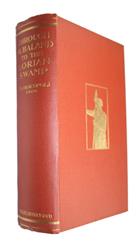 Description:
First edition. The author's account of his impressions of the lives and habits of the people and big game of the then unexplored region of Jubaland, southern Somalia. Illustrated mostly by photographs taken by the author. 16-page publisher's catalogue bound at rear.
Condition
8vo, orig. cloth, gt vignette to front board, teg, minor rubbing to extremities. Owners' names to endpaper. Vg clean copy.
Other titles from the collection : Prof Jim Green
You may also like...