[Transit of Venus Expedition - Kerguelen Island] Observations on the Insects collected in Kerguelen Island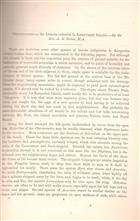 Illustrations : 1 double-page plate
Description:
Coleoptera (Waterhouse), Lepidoptera (Eaton), Diptera (Verrall), Neuroptera (Eaton), Collembola (Lubbock), Mallophaga (Giebel). Offprint from the Account of the Zoological Collections made in Kerguelen's Land during the Royal Society Transit of Venus Expeditions, 1874-75. Phil. Trans. Roy. Soc. 168
Condition
4to, plain wrappers, soiled, worn; contents clean.
You may also like...