Travels amongst the Great Andes of the Equator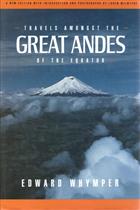 Description:
A new edition with introduction and photographs by Loren McIntyre. Edward Whymper (1840-1911) was an English mountaineer, explorer, illustrator, and author best known for the first ascent of the Matterhorn in 1865. He traveled to Ecuador with mountaineers J.A. Carrel and Louis Carrel to investigate altitude sickness during ascents of several mountains in the Andes. During the expedition they also collected 8000 zoological and botanical specimens.
Condition
Vg in d/w. Top edge slightly spotted.
You may also like...