Trees of Britain and Ireland History, folklore, products and ecology.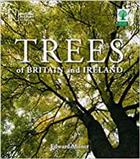 Condition
Vg. Signed by author. From the library of Keith Hyatt (d. 2021), acarologist at the Natural History Museum, London, and prominent member of the London Natural History Society, with his signature to endpaper. A few of his pencil corrections to text. Book review of this work pasted in. 24 newspaper clippings from The Times, about trees, loosely inserted.
Other titles from the collection : Keith Hyatt
You may also like...