Water Bugs and Water Beetles of Surrey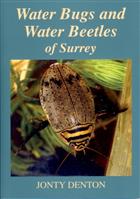 Description:
Covers the true aquatic families such as diving beetles and water boatmen, together with the shore bugs, marsh beetles and those leaf beetles and weevils which live on aquatic plants. The majority of British species are found in Surrey. Representatives of every family are illustrated in colour, as are most of the species which can be identified from a photograph. Notes on ecology and distribution for all species
Condition
Fine in d/w.
Other titles from the series : Surrey Wildlife Atlas Series
You may also like...