Whales, Dolphins and Porpoises:(Eyewitness Handbook)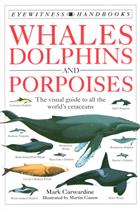 Description:
Reprint (first published 1995). A visual guide to all the world's cetaceans. A detailed handbook of whale watching, with every known species listed and illustrated.
Condition
Flexibound. Vg in d/w. Light spotting to edges.
Other titles from the series : Eyewitness Handbooks
Click to view all titles in this series...

You may also like...