Where Giants Trod: The Saga of Kenya's Desert Lake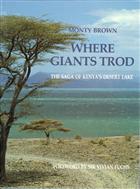 Publisher : Quiller Press
Published In : London
Illustrations : col + b/w illus, folding col map in rear pocket
Description:
1st edition. Foreword by Vivian Fuchs. Subjects dealt with include prehistory, background stories of the indigenous tribes living in the territory, a detailed account of the exploration of Lake Rudolf (now named Turkana), and finally a narrative of the white man's efforts to administer the land up to the year 1920. The core of the book deals with the thirteen expeditions to explore Lake Rudolf. Organised by an enthusiastic cross-section of Europeans and Americans, each had its own tale to tell, each took a different route, and each made its own contribution to geographical knowledge.
Condition
Owner's name to endpaper. Vg in d/w.
You may also like...