12 papers on the development, biology and commercial aspects of Lac insect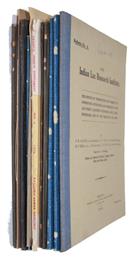 Illustrations : b/w plates, text figs
Description:
Includes, Bulletin of the Indian Lac Research Institute Nos 6, 11, 16, 20, 21 (1932-1934); Varshney, R.K., Taxonomic Studies on Lac Insects of India, Oriental Insects Supplement No. 5, 1976; plus 7 other papers on Lac insects published in various journals (mostly Indian), (1930-1934).
Condition
Most in card wrappers. Vg.
You may also like...