Entomologist's Gazette
NEW OPPORTUNITY FOR POSITION AS EDITOR OF ENTOMOLOGIST'S GAZETTE
We are currently seeking a new editor for the Entomologist's Gazette. Further information on the nature and scope of the journal may be found below. This is an exciting opportunity for an entomologist with relevant experience and enthusiasm to lead an editorial team in developing this prestigious entomological publication. The editor will collaborate with the publisher and editorial team to develop and promote the journal. The editor will help to attract quality papers, assess submitted contributions, liaise with reviewers, make editorial decisions and maintain the publishing schedule. As Editor you will have the opportunity to develop a range of scientific and management skills. Some editorial experience would be an advantage, but support and training will be available to a suitable candidate. A joint editorship would also be considered.
This position offers an honorarium.
Entomologists who would like to find out more about this role should contact the publisher, Ian Johnson (ian.johnson@pemberleybooks.com).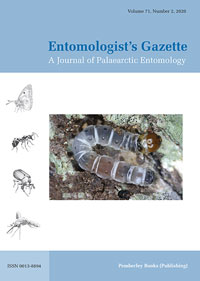 The Editor of the Entomologist's Gazette welcomes the submission of papers and notes and observations dealing with Palaearctic entomology. We are pleased to note that we have capacity for rapid publication of papers, which will be of particular benefit for authors seeking to fast track their research output. All articles are subject to peer review and may be returned to the author for modification before final acceptance. No material submitted to the Entomologist's Gazette should be simultaneously submitted to any other journal. Any queries on the presentation or suitability of a manuscript for publication may be directed to the Editor, who will be pleased to advise.
The Entomologist's Gazette was founded in 1950 as a journal for British entomology, but the scope was subsequently broadened to include Europe, and then the whole of the Palaearctic Region. The journal includes peer reviewed papers and notes on the biodiversity, biology, conservation, ecology, genetics, distribution, historical perspectives, taxonomy and systematics of all orders of Palaearctic insects, with an emphasis on the Lepidoptera. Submissions are welcomed from professional and amateur entomologists, and the editors will be pleased to advise on the suitability or presentation of any manuscript. This respected journal publishes papers, notes and book reviews facilitating the dissemination of entomological research and observations, engaging with an international readership.
Published quarterly at the end of January, April, July and October.
Online access
From 2018 (Vol. 69) the Entomologist's Gazette is also available digitally via IngentaConnect. Printed and online subscriptions are available.
Subscripton Rates
Our subscription rates can be found below. You can subscribe to the Entomologists Gazette or renew an existing subscription using the appropriate option.
VAT: VAT on both Print and Online1 subscriptions is now 0% in the U.K.
[1 from 1st May 2020]
Previous Issues
View details of previous issues of the Entomologists Gazette.
Editorial Board
Managing Editor:
Ian Johnson, FRES : editor@entgazette.com
Assistant Editors:
M. R. Honey, CBiol, MRSB
S. D. Beavan, BVet Med, MRCVS
Editorial Panel:
P. C. Barnard, PhD, ARCS, HonFRES
P. J. Chandler, BSc
M. L. Cox, BSc, PhD
Professor R. L. H. Dennis, BA, PhD, DSc, FLS, FGS, FRSB, FRES
Professor K. A. Efetov, DrBiolSci, DrMedSci
B. Goater, BSc, CBiol, MRSB
H. Malicky, DrPhil
M. R. Shaw, BA, MA, DPhil, FRSE, FRES
A. Spalding, MA, PhD, FLS, FRES, MCIEEM
Professor G. M. Tarmann, PhD, MSc
M. R. Wilson, BSc, PhD, FLS, FRES
M. R. Young, BSc, PhD, CBiol, FRSB, FRES
Publication of material in this journal does not imply that the views and opinions expressed therein are shared by the editor, the publisher, or by any party other than the named author(s).
Notes for Contributors
Contributions should be sent to the Editor and submitted as a word file, preferably by e-mail to editor@entgazette.com. Authors are advised to follow the style and format of the Entomologist's Gazette when submitting their manuscripts. Although every care is taken, the editors and publisher cannot be held responsible for loss of manuscripts, drawings, photographs or digital copies.
Nomenclature: should be based on the most recently revised check-lists, or on a more recent authoritative work. Authors of scientific names should not be abbreviated and, together with the original date of publication, must be placed in parentheses when required.
Formatting: Style and formatting should be kept to a minimum, but generic and specific names, titles of journals and books, and 'et al.' should be italicised.
Measurements: sizes, altitudes and distances should be expressed in metric units, e.g. 1000 m, 10 km, 50 mm
Dates: should be cited as, for example, '2.x.2000' or '2 October 2000' and should be uniform within the paper.
Synopsis: A brief synopsis followed by a list of key words should be included with each paper and placed before the introduction or introductory paragraphs.
Acknowledgements: should be listed in a separate paragraph at the end of the text, preceding the list of references.
References: in papers should be listed at the end of the paper, not as footnotes, and arranged in alphabetical order by author and styled as follows:
Tremewan, W. G. 1989. Biological, ecological and synonymic notes on Zygaena (Zygaena) persephone Zerny, 1934 (Lepidoptera: Zygaenidae). Entomologist's Gazette 40: 15–20, pls 4, 5.
A text reference to this paper should then be cited as follows: 'Tremewan (1989: 19, pl. 5, fig. 6) described and illustrated the cocoon ...' or '... (Tremewan, 1989)'; the term '… et al.' should be used in the text when there are more than three authors, but in the list of references all authors should be cited.
In 'Notes and Observations', the reference should be placed in parentheses within the text as follows: '(Tremewan, 1989, Entomologist's Gazette 40: 15–20, pls 4, 5)'.
Titles of periodicals and books must be cited in full; those of books should be listed as follows:
Tremewan, W. G. 1988. A Bibliography of the Zygaeninae (Lepidoptera: Zygaenidae) 188 pp. Colchester.
Illustrations: should preferably be sent electronically in EPS, TIFF or JPG format (or as native format files from your graphics software). Figures should be at least the same size as the final intended appearance when published, and at a resolution of at least 300 d.p.i. for colour and greyscale photographs, or 1200 d.p.i. for line drawings. Images should be submitted as separate files, not embedded within a text file.
The numbering or lettering of all illustrations within a paper should run consecutively, be uniform in style and take into account any reduction that might be required so that, when reproduced, the numbers or letters are all of the same size. The captions should be placed after the list of references at the end of the paper, one paragraph per group of figures. Colour illustrations are accepted and the authors will generally be charged for the use of colour; however, some discretion may be shown.
Tables: Please do not align the columns in tables by multiple spaces or tabs. Each column should be separated by only a single tab.
Permissions: It is the responsibility of the author(s) to obtain permissions, where necessary, for material quoted or reproduced from other works. All such material, text and illustrations, should be suitably acknowledged.
Proofs: A set of proofs will be sent to an author for checking and correcting. Alterations to the original text at the proof stage should be kept to a minimum. Significant changes by the author at this stage of publication may incur a charge.
Offprints: On publication pdfs are supplied free of charge to authors of their papers. Offprints of papers and Notes and Observations may be ordered at a cost and should be ordered on the offprint order form enclosed with the proofs.
PDF files are supplied to authors for private circulation only and may not be uploaded to websites or used for commercial gain.