A Biological Reconnaissance of the Peterboro Swamp and the Labrador Pond Areas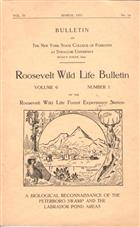 Description:
Roosevelt Wild Life Bulletin Vol. 6, No. 1. (Bulletin of the New York State College of Forestry at Syracuse University Vol. IV, No. 1a). Concerns the creation of a sanctuary for native wild life and game birds and mammals on a swamp in Madison County, New York state. Mostly concerned with the bird life of the area.
Condition
Orig wrappers. Vg.
Other titles from the collection : Prof Jim Green
You may also like...