A Guide to Orchids of Hong Kong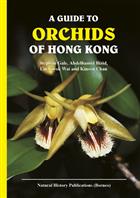 Description:
A total of 133 species of orchid have been recorded in Hong Kong. For the first time, this book compiles images and data on all 97 extant local species in the format of a full-colour, easy-to-use, quick reference field guide. With growing appreciation for the importance of a healthy and resilient ecosystem to support and enrich our lives, it is hoped that this book will inspire respect for these natural treasures and strengthen the resolve to protect the breathtaking landscapes in which they occur.
You may also like...