A Guide to the Identification of Deciduous Broad-Leaved Trees and Shrubs in Winter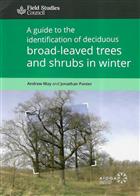 Description:
A fully illustrated guide enabling the beginner to identify most of the deciduous trees and shrubs encountered in winter. Over 70 species familiar in Britain's woodlands, hedgerows and town parks are included. The key uses mainly buds, but refers to bark, twigs and habitat when appropriate. Reprinted from Field Studies Vol 9 (2000).
Other titles from the series : AIDGAP GUIDES
You may also like...