A Naturalist's Guide to the Butterflies and Dragonflies of Sri Lanka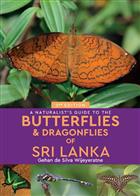 Description:
2nd edition. A single, compact and portable photographic guide to the butterflies and dragonflies of Sri Lanka. The emphasis for the
148 species of butterfly and 78 dragonflies featured in this second edition is on the commoner species, covering around 90 per cent of those that a visitor is likely to see. It is also an excellent book for residents to learn about the commoner butterflies and dragonflies before progressing to more advanced technical books. The guide is focused on field use to help beginners and experts identify species and provides information on their distribution and habitats. As identification of butterflies and dragonflies require a different approach, the two sections are done as two mini photographic field guides with common introductory sections to wildlife watching in Sri Lanka. The book includes information on the key wildlife sites, general introductions to the biology of dragonflies and butterflies, up-to-date checklists with local status and useful references.
Other titles from the series : Naturalist's Guides
You may also like...