A Naturalist's Guide to the Reptiles & Amphibians of New Zealand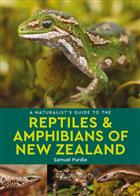 Description:
This easy-to-use identification guide to the 141 reptile and amphibian species of New Zealand is perfect for resident and visitor alike.
High-quality photographs from the author and the regions's top nature photographers are accompanied by detailed species descriptions, which include nomenclature, size, distribution, habits and habitats, and conservation information. There is also a distribution map for each living terrestrial species. The user-friendly introduction covers geography and climate, habitats, reptiles and amphibian identification and a glossary. The final section contains an allimportant checklist of all of the herpetofauna of New Zealand encompassing, for each species, its risk category and New Zealand conservation status.
Other titles from the series : Naturalist's Guides
You may also like...