A Naturalists Guide to the Snakes of South-East Asia: Malaysia, Singapore, Thailand, Myanmar, Borneo, Sumatra, Java and Bali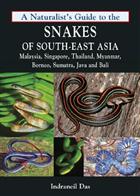 Description:
Contains high quality photographs accompanied by detailed species descriptions including nomenclature, size, distribution, habits, and habitat. The introduction covers snake topography, how to deal with snake bits and a glossary. Includes a checklist of all of the snakes of Southeast Asia including, for each species, its common and scientific name, IUCN status as at 2012 and its status in each country.
Other titles from the series : Naturalist's Guides
You may also like...