A Pocket Guide to the Shieldbugs and Leatherbugs of Britain and Ireland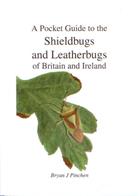 Description:
Illustrated identification guide showing adults of all 36 species of shieldbug and 10 species of leatherbug found in Britain and Ireland. Last instar nymphs are also illustrated for commoner species.
Species descriptions: field characters, similar species, habitat and distribution
You may also like...