A Revision of the Bombyliidae (Diptera) of Southern Africa. Pt I-III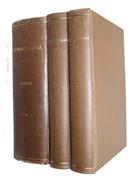 Description:
From Annals of the South African Museum XXXIV, XXXV (Pt 1+2). Rare. Albert John Hesse (1895-1987) was a South African entomologist. He was a curator at the South African Museum for fifty one years. Hesse worked primarily on Bombyliidae and Mydidae. The current work comprises his monumental revision of the Bombyliidae of southern Africa.
Condition
3 vols, roy. 8vo, buckram. Occasional marginal pencil annotations. From the library of British dipterist, John Bowden (1924-2012), an expert on the world fauna of bee-flies (Bombyliidae), with his name to endpaper.
Other titles from the series : Annals of the South African Museum
Click to view all titles in this series...

Rayner, N.A.
Price £15.00

Barnard, K.H.
Price £38.00

You may also like...