A synonymic list of the Nearctic Rhopalocera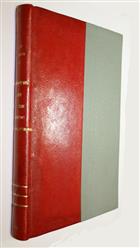 Description:
Mem. Lep. Soc. No. 1.
Condition
Rebound in later half crushed morocco, suede-like endpapers. Fine craft binding by 'M.M.' (Monique Macaux).
Other titles from the series : The Lepidopterists' Society Memoir
Click to view all titles in this series...
Dos Passos, C.F.
Price £25.00
Other titles from the collection : Henri Dirickx Library
You may also like...