A Taxonomic Conspectus of the Tachinidae (Diptera) of the Oriental Region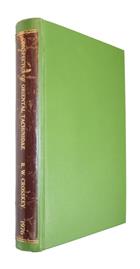 Description:
Bull. Br. Mus. nat. Hist. (Ent.) Suppl. 26.
Condition
Bound in green buckram, brown leather title piece, gt, rubbed/scuffed, orig. printed wrappers retained. Vg. From the library of the author, Roger Crosskey (1930-2017), British dipterist, Natural History Museum, London, specialist on blackflies (Simuliidae), with his stamp.
Other titles from the series : Bulletin of The Natural History Museum: Entomology
You may also like...