A World Catalogue and Bibliography of the Jewel Beetles (Coleoptera: Buprestoidea). Vol. 3: Buprestinae: Pterobothrini - Agrilinae: Rhaeboscelina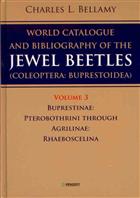 Description:
Third of 5 vols. Vol. 3: Buprestinae (part - including Anthaxia and Chrysobothris) and the majority of the non-Agrilus Agrilinae
Other titles from the series : Series Faunistica
You may also like...