Algae and the Aquatic Environment: Contributions in honour of J.W.G Lund, C.B.E., F.R.S.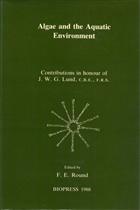 Collection : Prof Jim Green
Publisher : Biopress
Published In : Bristol
Illustrations : b/w frontis, 66 b/w figs, text figs
Description:
Contains 24 articles written in honour of the eminent algal ecologist and limnologist J.W.G. Lund.
Condition
Fine in d/w. From the library of Prof. J. Green (1928-2016) with his name to endpapers.
Other titles from the collection : Prof Jim Green
You may also like...