An Identification Guide to Mushrooms of Britain and Northern Europe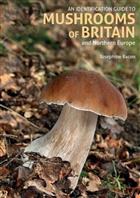 Description:
2nd Edition. A photographic identification guide to 150 species of mushrooms most commonly found in Britain and Northern Europe. A user-friendly introduction includes an overview of distribution, the anatomy of a mushroom, nomenclature and useful information on hunting for and cooking with mushrooms. The identification section then divides into three categories: edible mushrooms, inedible (but not poisonous) mushrooms, and poisonous species. There is useful information on where and when mushrooms can be found, characteristic features and if edible, how best to cook the species.
You may also like...