An Illustrated Summary of the Higher Classification of the Superfamily Buprestoidea (Coleoptera) Folia Heyrovskyana Suppl. 10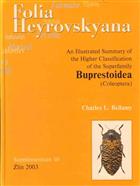 Description:
The classification presents data from superfamily to subgenus giving all synonyms, type genera for all family-group names, type species for all genus-group names, a brief assessment of the number of species for each genus and known geographical distribution. Information is presented for two families, seven subfamilies, 42 tribes, 87 subtribes, 491 genera and 172 non-nominate subgenera
and their respective synonyms. Notes are included for various taxa to indicate current opinions, recent revisionary studies or controversial placements awaiting resolution. Forty-four plates include
colour dorsal habitus photographs of 453 taxa
Other titles from the series : Folia Heyrovskyana Supplementum
You may also like...