Animals under logs and stones (Naturalists' Handbook 22)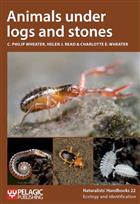 Description:
2nd revised edition. Logs, stones and the like provide an interesting interface between the damp depths of the soil and the drier open ground surface, offering refuges for a fascinating array of animals. The communities of organisms that live beneath them are little noticed and even less studied, yet the potential for ecological work here is great. Some of the animals are relatively large and frequently not difficult to find. They exhibit a wide range of lifestyles - from slow slugs or snails to very fast centipedes, from generalist to specialist feeders and from herbivores to carnivores.
With chapters covering the cryptosphere environment, species groups, identification, guidelines and ideas for further research, this much-expanded and updated new edition also includes extensive, easy-to-use, comprehensively illustrated keys. Ground-surface debris can be found almost anywhere, often presenting highly accessible microhabitats for study and bringing immediate rewards to the curious: here is the ideal tool to unlock these worlds.
Other titles from the series : Naturalists' Handbooks
You may also like...