Aphids on Deciduous Trees (Naturalists' Handbooks 29)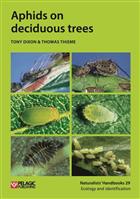 Description:
Deals with the identification, biology, and ecology of these herbivorous insects. Many line drawings, keys and photos of the aphids as well as their impact on the trees complement the text. While there are chapters dealing with Natural Enemies, Abundance, Sex and Distribution and Global Warming, the bulk of the book deals with identification.
Unaltered reprint of the 2007 edition (ISBN 9780855463144).
Other titles from the series : Naturalists' Handbooks
You may also like...