Arachnida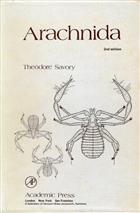 Description:
Second edition. A classic work on arachnid biology.
Condition
Publisher's slip tipped-in to endpaper. Author's signature, dated 1950, cut from elsewhere and pasted to title page. Vg in d/w (slight fading to spine). From the library of Keith Hyatt (d. 2021), acarologist at the Natural History Museum, London, and prominent member of the London Natural History Society, with his name to the front pastedown.
Other titles from the collection : Keith Hyatt
You may also like...