Atlas des papillons de nuit de Basse-Normandie et des îles Anglo-Normandes: Les noctuelles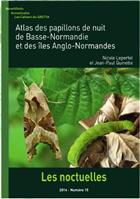 Description:
Text French. The 359 known species of Noctuidae from Lower Normandy and the Channel Islands are described, together with distribution maps based on 63650 records. Illustrations include photos of 680 moths and 230 larvae, together with 19 plates, drawings to aid identification of the more difficult species and photos of genitalia for those not easily identified by external characters.
Other titles from the series : Invertebres Armoricains
Click to view all titles in this series...

You may also like...