Atlas of European Millipedes (Class Diplopoda). Vol. 1: Orders Polyxenida, Glomerida, Platydesmida, Siphonocryptida, Polyzoniida, Callipodida, Polydesmida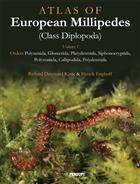 Description:
First of three volumes showing the distribution of Europe's 1500+ species of millipedes on 50x50km square maps. This volume includes 492 species, including the tiny pincushion millipedes, the colourful pill-millipedes and the flat-backed millipedes
Other titles from the series : Fauna Europeaea Evertebrata
Click to view all titles in this series...
Turin, H.; Penev, L.; Casale, A. (Eds)
Price £100.00
You may also like...