Atlas of Images of Thin Layer Chromatograms of Lichen Substances / Bilderatlas von Dünnschichtchromatographen Flechten-Inhaltsstoffen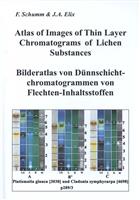 Description:
Text bilingual English/German. The book contains a collection of colour photos of plates obtained by thin layer chromatography of many lichen substances and will serve as an aid to their identification. The images show mounted runs using solvents commonly used in Lichenology: A, B/B' and C. Results are shown on 5 x 5 cm HPTLC-Plates in daylight and UV-light and after processing with sulphuric acid. The origin of each Lichen substance (or substances) is specified.
You may also like...