Bats: An Illustrated Guide to all Species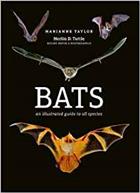 Publisher : Ivy Press
Illustrations : col photos
Description:
This book looks in detail at the more than 1,300 species known today. Nocturnal, fast-flying and secretive, they are endlessly fascinating, yet extremely difficult to observe and catalogue. The diversity of bats is both rich and underestimated and the threats they face from humans are very real. This guide illuminates the world of bats and reveals their true nature as intelligent, social and deeply misunderstood creatures.
This extravagantly illustrated handbook features the work of famed nature photographer Merlin D. Tuttle and in-depth profiles of 288 bats, from the Large Flying Fox, which has a wingspan of more than five feet, to the Bumblebee Bat, contender for the world's smallest mammal. Bats includes close-up images of these animals' delicate and intricate forms and faces, each shaped by evolution to meet the demands of an extraordinarily specialized life, and a thorough introduction which explores their natural history and unique adaptations to life on the wing.
You may also like...