Bee Tiger: The Death's Head Hawk-Moth through the Looking-glass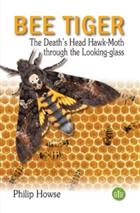 Description:
The clear skull markings on the thorax of the large and impressive Death's Jhead Hawk-moth are truly fascinating, often perceived as a threat or leading to superstitious and mythological beliefs. Here the author, an authority on mimicry, discusses why we are so intrigued by these markings but also explains how other animals may perceive its form and behaviour. This moth has evolved to deceive its main predators, especially birds and bats, and to rob bees of their honey without getting stung, again by deceiving them of its true nature, with acoustic, visual and chemical signals in play. It is able to do this because of the obvious, but usually overlooked, fact that other animals live in a different sensory world to us, i.e. their perceptions are different.
• First book about the natural history and folklore of the large Death's Head Hawk-Moth
• The moth was made famous by the book and film The Silence of the Lambs.
• It can be a pest of agrigultural crops and also raids beehives stealing the honey.
• It defends itself from predators using acoustic, visual and chemical signals which humans cannot sense.
• Our perception of it as a threat and the creation of superstitions is due to its sinister-looking skull markings on the thorax.
• Written by Prof. Philip Howse, an authority on insect behaviour.
• Foreword by Simon Barnes, popular natural history author and journalist
• Complemented with colour and b&w photographs
You may also like...