Bird: The Definitive Visual Guide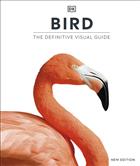 Description:
The diversity and drama of the bird world is brought to breathtaking life in an encyclopedic new edition
This photographic guide to every bird order and family profiles more than 1,280 species, pictured in their native environment by photographers around the globe. Authoritative, comprehensive, and completely up to date, this reference was produced by a team of expert contributors and revised with BirdLife International.
Bird's species catalogue showcases birds from hummingbirds to eagles, each with a description, distribution map, and data file, and most have a photograph. Organized in taxonomic groups, the catalogue has detailed introductions to every major bird order. The passerines (perching birds; the largest order) alone occupy 158 pages, and most of their families, such as larks or fairywrens, have their own introductions. Nearly 100 further pages cover bird biology in vivid detail - their anatomy, feeding, communication, breeding, habitats, and migrations. All this, and special features on the world's most impressive birdwatching locations, make Bird 'A must-have reference for every bird enthusiast' BBC Wildlife Magazine.
You may also like...