Birds of New Guinea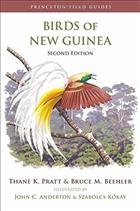 Description:
2nd edition. Completely revised edition of the essential field guide. This is the only guide to cover all 780 bird species reported in the area, including 366 endemics. Colour plates, distribution maps, updated species accounts with new information on identification, voice, habits, and range.
Other titles from the series : Princeton Field Guides
You may also like...