Breeding the Worlds Largest Living Arachnid: Amblypygid (Whipspider) Biology Natural History and Captive Husbandry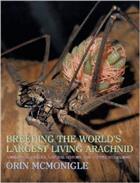 Description:
The Order Amblypygi not only contains world record species, but also some of the most improbable and unbelievable looking members of the Class Arachnida. Otherwise known as whipspiders, these creatures appear to have been formed in the deep recesses of a human nightmare, and yet are the only large arachnids that are entirely harmless to humans. Predatory whipspiders display advanced social behaviors and externally visible reproductive biology of immense complexity. This text presents cutting edge biological details, supporting Scanning Electron Micrographs, and unparalleled captive reproduction information with photographic documentation.
You may also like...