British and Irish moths: an illustrated guide to selected difficult species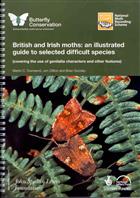 Description:
This guide brings together information on the identification of difficult macro-moths, beyond what is currently available in field guides. Includes 72 larger moth species (with their subspecies and forms). Provides the next step for those wishing to make a definitive determinations of difficult moths such as ear moths, dark/grey daggers, copper underwings and the November Moth group. As such, much of the Guide is focussed on genitalia characteristics, although there are discussions of other characteristics such as wing markings. It provides an up-to-date summary that will be of use even to those already experienced in genitalia determinations, but the main intended audience is those active moth recorders who are ready to take on the more challenging macro-moths and, thus, help improve the recorded distributions of these species
You may also like...