British Mites of the Subfamily Macrochelinae tragardh (Gamasina-Macrochelidae)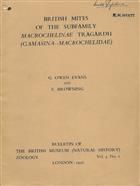 Description:
Bull. BM(NH) Zoology, Vol. 4(1).
Condition
Wrappers, hole punch to top left. From the library of acarologist Dr. Keth H. Hyatt (d. 2021) with his ownership stamp. Also with signature of Donald Macfarlane (1930-2019). Good.
Other titles from the series : Bulletin of The Natural History Museum: Zoology
Other titles from the collection : Keith Hyatt
You may also like...