British Soldierflies and their Allies: An Illustrated Guide to Their Identification and Ecology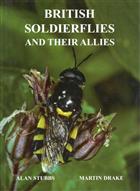 Description:
Covers the larger Brachycera; families: Acroceridae, Asilidae, Anthericidae, Bombyliidae, Rhagionidae, Scenopinidae, Stratiomyidae, Tabanidae, Therevidae, Xylomyidae, Xylophagidae. Illustrated keys to the adults of all 162 species, and to the larvae and pupae of several families. Accounts of ecology and natural history for each species.
Condition
Vg in d/w.
You may also like...