Buried Treasures: Finding and Growing the Worlds Choicest Bulbs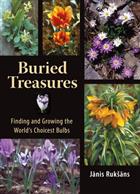 Description:
Since launching his first international mail-order catalog in 1991, Latvian nurseryman Janis Ruksans has rapidly gained a reputation as one of the world's foremost experts on rare and unusual bulbs: Juno irises striped like exotic birds; gem-like corydalis; dusky, brooding fritillaries. For decades, Ruksans has been scouring remote and dangerous regions of Europe and Asia to bring back seed of the botanical treasures that he offers through his nursery, often contending with corrupt government agents, armed rebels, drunken drivers, and even (before the fall of the Soviet Union) the KGB. Once you read Ruksans' accounts of his extensive travels, you'll never look at a flowering bulb in the same way again. A crocus will take you to the shores of Lake Abant in northwestern Turkey, a tulip to the mountains of Chimgan in Uzbekistan. Although adventure abounds in Buried Treasures, there's a great deal more for the gardener seeking trustworthy information. As well as being a renowned collector, Ruksans is a grower and propagator of bulbs second to none, and he generously shares his professional knowledge about the care and cultivation of every major and minor genus of bulb-forming plant. As richly diverse as the plants it describes, Buried Treasures will open your eyes to the beauty and fascination of the world of bulbs.
You may also like...