Butterflies and other Insects: My enduring impressions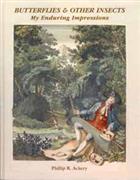 Description:
The author spent 41 years working with the scientific collections at the Natural History Museum, London, primarily the butterfly collection. To some extent, this volume reflects his areas of specialization: the milkweed butterflies, the passionvine butterflies, the apollo butterflies and the birdwing butterflies; together with other stories that imposed on his memory over four decades. As a new-comer to entomology in 1965, he became very aware of the absence of a collections based introductory text, so to some extent this book addresses this need
You may also like...