Captain Cook: Obsession and Betrayal in the New World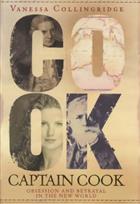 Description:
Captain Cook was a man making two journeys, one public and one personal, and their success and ultimate cataclysmic failure are intertwined. By the time he "discovered" Australia, the mythology around Cook had set fast. Its strength endured the fractures of an unheroic descent and violent death. Almost 100 years later another man catches a boat to Australia. Like Cook, George Collingridge, aristocrat and artist, is seeking adventure - and like Cook, it proved to be his undoing. His journey leads him to old maps of early explorers, secret tales of hidden lands and buried treasure. It leads him to the real discoverers of Australia - the Portuguese. He stakes his reputation on the claim and loses it; his life is ruined by obsession. A hundred years later, Vanessa Collingridge is searching for books on her hero Captain Cook in a university library. She discovers the name of a distant cousin, George Collingridge, in a dusty card index. Thus a new journey of discovery begins - in the footsteps of her hero and his nemesis. The result is this biography which tells how passion and betrayal unite two men across 100 years and 10,000 miles. It sets Captain Cook, hero of conflicting myths, in the context of his times, his personality, his guiding philosophy and his extraordinary legacy.
Condition
Vg in d/w. Light browning to paper. From the library of Keith Hyatt (d. 2021), acarologist at the Natural History Museum, London, with his name to the front pastedown.
Other titles from the collection : Keith Hyatt
You may also like...