Carcinology in the Natural History Museum; the brachyuran crab collections and their curation from 1913-1904 (Leach to Calman)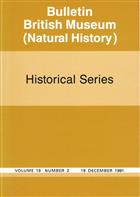 Description:
Bull. Br. Mus. Nat. Hist. (Hist. Ser.) 19(2): 161-224.
Condition
Wrappers. Vg.
Other titles from the series : Bulletin of The Natural History Museum: Historical
Other titles from the collection : Library of Pamela Gilbert
You may also like...