Catalogue of Australian Lichens (Flora of Australia Supplementary Series 19)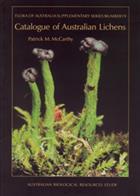 Description:
This catalogue lists 396 genera and 3138 species and infraspecific taxa of lichens known from Australia and its external island territories. Thirty-four percent (1058 taxa) are endemic, with levels of endemism and overall diversity markedly higher in the eastern and south-eastern States. Genera are listed alphabetically, as are the accepted species under each generic heading. Synonyms that have been applied to Australian specimens are inserted under the appropriate species name. Each genus is accompanied by a chronological list of literature citations that provide locality details, descriptions, identification keys and/or habitat information.
You may also like...